The many beaches of Kythira are easily reachable by car in 15 to 30 minutes. At any weather you will find the perfect beach. Many beaches have a canteen, sun umbrellas and deck chairs, so you can spend the day pleasantly.
Kaladi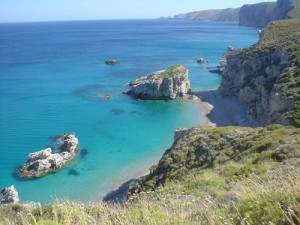 A beach that should not to be missed when visiting the island: with crystal clear turquoise waters and greyish pebbles, the beach of Kaladi is one of the most beautiful ones. It is located in the eastern part of the island, close to Paleópolis. A dirt road and 120 steps will take you down to it. Don't expect to find a beach bar so be well-prepared for the event of hunger or thirst.
Paleopoli
The largest beach of Kythera in the east side of the island. Even during August is quiet and peaceful there. You will find sand and stones in this lovely beach. Towards Avlemonas you will find canteen and umbrellas.
Melidoni
Clear waters and sand with small pebbles, in combination with a spectacular view overlooking Chytra. Visitors will find a canteen in which beach parties are organized day and night. This small creek is located in the southwestern part of the island and it is accessible by car through the dirt road for Drymona.
Chalkós
With pebbles and fine turquoise waters, this popular beach lies a few kilometers away from Kálamos. It is well organised, with canteens and a spacious car park.
Fyrí Ámmos in Kalamos
There are two beaches with this name on the island. If you must choose which one to visit, we would suggest the one located just outside the village of Kálamos. Awarded for its natural beauty and crystal clear waters, the beach is a popular attraction. Its being well organised contributes to that.
Kakiá Lagáda
Another Blue Flag award winner, this very well organised beach is also known for the "Barbarossa Days" (pirate games) i.e. a beachvolley tournament. This is the place for relaxed swimming with a view towards the coast of the Peloponnese. Also known for its beach bar and summer parties.
Kalami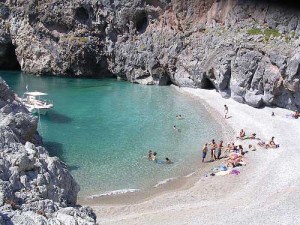 In the west coast and a few kilometres after Mylopotamos you will see this amazing sandy beach. A small bay that you will find and reach with great difficulty. It would be wise to ask the locals for directions. However, is not easily accessible and if you have health problems it would be better to avoid it.
Sparaggario
In the south part of Kythera and very close to Kapsali bay, you will find one of the most characteristic sandy beaches of the island. Very popular especially in the past decades for nudists, this beach is accessible from Kapsali, by sea only, or after following a small dirty road and then following some steps. Definitely it worths the effort.
Fournoi
Clear waters and greyish pebbles form an idyllic landscape that offers peace and relaxation. Indulge in the deep blue of the sea and the beautiful music coming from the nearby canteen (jazz, soul etc.) and let your mind travel along.
Diakófti
As if it came out of a fairy tale featuring pirates and heroes, the beach seems to be made in heaven. White sand and shallow waters make it ideal for children of all ages. Visitors will find many tavernas with fresh fish and traditional Greek dishes. The shipwreck "Navagio"; a popular tourist attraction, is not far from here either.
Komponada
In the east part of the island, very easily accessible, Komponada is popular for the crystal clear waters. One of the largest beaches in Kythera, has been orgnaised in the last few years.
Other beaches around the island. Access on partially dirt roads:
Feloti

, near Chora.

Limnaria

at the monastery Myrtidia.

Limnionas

 near by Milopotamos, towards the cave of Agia Sofia, with fantastic views of the west coast.

Likodimou

and

Agios Leftherios

, can be reached from Logothetianika.

Ocheles

, turn left at the oil mill, on the outskirts of Potamos direction to Karavas.

Agios Nikolaos

, near by Platia Ammos, next to the lighthouse Moudari.