Kythira Island – Travel Guide
Flights, Ferries, Buses, Accommodation, Car Rental, Information, Beaches, Attractions, Excursions, Map and Hiking.
At the crossroads of maritime routes to and from the eastern Mediterranean Sea, near the southeastern tip of the Peloponnese, located. The Ionian island Kythira – Kythera – Kithira is spared by the great power of mass tourism and therefore the island could preserve its charm and traditions.
The island consists of many small villages and settlements, which are mainly in the interior of the island. The mild climate, the varied landscape with its mountains and canyons, the olive groves, the pine trees and cypresses, the churches and monasteries and over and over again the sea with its picturesque bays and beaches enchant the visitor.
The Venetians called the island Cerigo.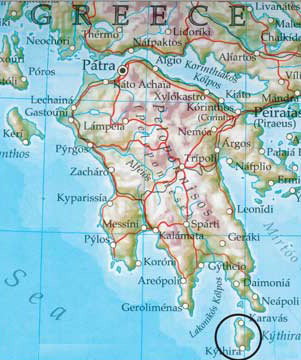 Holidays on Kythira is a unique experience!
The many varied beaches with crystal clear water.
The hiking trails lead you through a versatile nature.
The beautiful varied landscape captures you in its spell
The monuments of the past reflect the history of Kythira.
The Greek cuisine, the food and drink created for a sensuous experience.
How to get to Kythira: Flights, Ferries and Buses
Accommodation: Hotels, Apartments, Holiday Homes and Rooms
Rent a Car

Taxi

Attractions

Beaches

Camping

Hiking on Kythira

Local Products
General Information

Important Phones

Antikythera
Kythira, the island of Aphrodite!